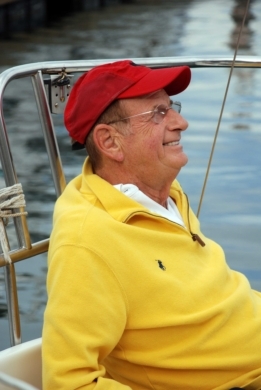 Dubbed the "Progressive Dinosaur" Rich Meyer hails from Hinsdale, Illinois and earned his nickname through his broad work in educating and assisting others.  Rich has spent 40-years committed to community service, being chair or co-chair of six non-for-profit organizations, and ministering in his church and the 12 step recovery philosophy. Equipped with his knowledge, kind heart, and love of sailing, Rich has decided to share his narrative and voice to begin a new venture as writer and blogger.
STAY CONNECTED WITH RICH
PROGRESSIVE DINOSAUR
While some might consider the term "dinosaur" abrasive, it's meant to acknowledge how tall, steady, and wise he's been through the years,  like a Brachiosaurus of sorts. Rich's commitment to progressive values has held true for years. And with his latest venture to write and share his truth, Rich implores both young and old to consider how past, present, and the soon-to-come future can be affected by progressive morals. Rich has a ton of faith in Millennials and all people of the world, believing we can turn the tides of the future into a positive direction. Rich firmly believes that 'Love In Action' is essential to guiding us to better.
LOVE IN ACTION
"I believe in a theory: sex is love in action on an individual level, religion is love in action toward spiritual evolution, and politics is love in action on a service plane. So in essence, "love in action" is the common thread in Penney's Beach. Offering insights into these concepts, I intend that Penney's Beach serve as a stabilizing force for Millennials—providing a window into the past, encouraging analysis of today, being perhaps useful as a tool for the future…in the further evolvement of society." – Rich Meyer
PUBLISHED WORKS
Meyer has recently directed his creativity to a unique novel, Penney's Beach

, a story that explores the serious subjects of sex, politics, and religion from a new and lighthearted perspective.

He was the inspiration and contributing author for the 2011 anthology, Beyond Forgiveness, Reflections on Atonement by Phil Cousineau which was selected as the 'Common Theme Book Of The Year' for 2013-2015 at Indiana University.
OTHER NOTABLE FACTS OF RICH
Rich earned his BSEE from the University Of Illinois in 1965.

His career has covered many disciplines like high tech engineering during the Space Race, financial planning where he obtained licenses in real estate, insurance and securities, and property management for apartments, forms, and commercial buildings.

In the political arena, Meyer co-founded two organizations. In 2004, he won the Democratic primary election for U.S Congress obtaining 70 percent of the votes.

Rich is a passionate sailor, and an instrument-rated pilot, having flown from Alaska to the Bahamas.